Mike's Autojournal
Mike Shea's Website
Sly Flourish
Below is an archive of all of the Sly Flourish DM Tip Twitter posts for March 2010. Get daily DM tips athttp://twitter.com/slyflourish!
#dnd tip from @newbiedm: AWESOME resource for fantasy names and titles.http://www.lowchensaustralia.com/names.htm
#dnd tip: Don't try to force your game to be a certain way. If you're group is out for a laughing good time, make it so.
#dnd tip: If you can find them, Deathcap and Arcane Ballista miniatures can make for some great environmentals / terrain power pieces.
#dnd tip: Use email as a method to run quests for individual PCs.
#dnd tip: Want a nasty undead beast like the old level-drainers? Give them a disease on hit that stacks -2s to attack each failure.
Here's my portal prop for Nerull's Gate in @brucecordell's "Death's Reach" adventure http://bit.ly/b1aNNG #dnd
#dnd tip: Spend some time making sure your bosses will work the way you want. Don't just grab them from the Monster Manual without tuning.
Good #dnd 4e article on combat length. Worth reading and pondering: http://bit.ly/crUICf
#dnd tip: Stay on your feet to keep your game energetic. It will keep you awake and keep your roleplaying interesting.
Woo! @wizards_dnd put out level 6 pregens in the card format in PDF for #dnd Gameday! http://bit.ly/lvl6pregens very useful!
#dnd tip: Don't force skill challenges and roleplaying. Sometimes your group just wants to fight!
Fun #DnD campaign from @milambus: The Breakfast Club meets Dungeons & Dragons. High School students are teleported to detention in D&D.
@Light_Outlaw For erasable maps, I prefer the Gamemastery Flip-mats: http://bit.ly/bsNgP4 #dnd
Got two sets of Harrowing Halls (http://bit.ly/bviGeA). Very cool 3d terrain in this set. I'm glad I got two, they go out of print fast #dnd
#dnd tip: Give your beholder a swiss-cheese room where they can travel through tunnels in any direction. Got this from @davethegame.
#dnd tip: Use room positioning as a reward for a skill challenge. Give your PCs the high ground if they succeed or at a disadvantage if not.
RT @gamefiend: New blog post: Character Flaws http://at-will.omnivangelist.net/2010/03/character-flaws/
#dnd tip: Did your monsters hear the PCs coming? Give them a round of readied actions!
From @cwgabriel – Add a "capture the beast when it is bloodied" mechanic for a quick battle Pokemon style! http://bit.ly/d1hdnr
#dnd tip: Try using Living Forgotten Realms cards in your home campaign as extra rewards. http://bit.ly/cw9ig2
Good quick #dnd battle tip from my friend @mike_schiller: Set up monsters and Pcs Final Fantasy style and remove movement from equation.
#dnd tip: Use room positioning as a reward for a skill challenge. Give your PCs the high ground if they succeed or at a disadvantage if not.
I love how many folks at #pax are using the folded-card over the DM screen initiative system. http://twitpic.com/1bdijh #dnd
#dnd tip: Try an encounter with invulnerable minions until a challenge has been passed.
#dnd tip: Give solos a lot of environmental effects they can manipulate.
#dnd tip: Give certain monsters a penetration ability to burrow through resistances once they've seen it in action. Reverse "variable" res.
#dnd tip: Introduce your campaign villain at level one. Have Orcus show up in a town and wreak havoc! Revenge is a great motivator.
One of my players picked "Volcano Girls" by Veruca Salt as his theme song. He clearly gets it. #dnd
Cool looking web-based DM tracker that imports from iPlay4e: http://laughterforever.com/inCombat/
#dnd Tip via @EpicDestinies: If you're running Eberron check out 80's-90's action movies for inspiration; Under Siege, Air Force One, Speed
#dnd tip: Sometimes it helps to write your own unseen background stories. What actually happened 500,000 years ago in that tomb? #dnd
.@gregbilsland your theme music action point house rule is awesome. I'm going to #dnd tip that later and use it in my game.
Good Dungeon's Master article on character building. I like using a character archetype from TV or Film. http://goo.gl/fb/nfre
if you missed it, I wrote an article on fun terrain effects and PC terrain powers with the Harrowing Halls tiles! #dnd http://goo.gl/fb/pj7k
Like these tips? Consider using these links to purchase theMonster Manual 2, orDungeon Masters Guide 2 or use this link topurchase anything from Amazon.com.
From a storytelling angle, we all love the big bad evil guy (BBEG). We love our main villains whether they be Sarumon or Hans Gruber. They are the mastermind behind the treachery faced by your PCs and, for that reason, they are the most sought out for your PC's vengeance.
In good storytelling we like to see our masterminds struggle with our heroes but in D&D this often plays out a different way. Elite villains in D&D end up being a lightning rod for damage, often dying in the first one or two rounds of combat as all of your players use every powerhouse daily they have to bring the poor wretch down. It is not uncommon for every member of the party to ignore any other threat in an encounter to focus all of their attention on the big bad evil guy and bring him or her down as fast as they can.
Today we're going to look at some ways you can keep your mastermind upright even when the full wrath of the PCs falls upon them.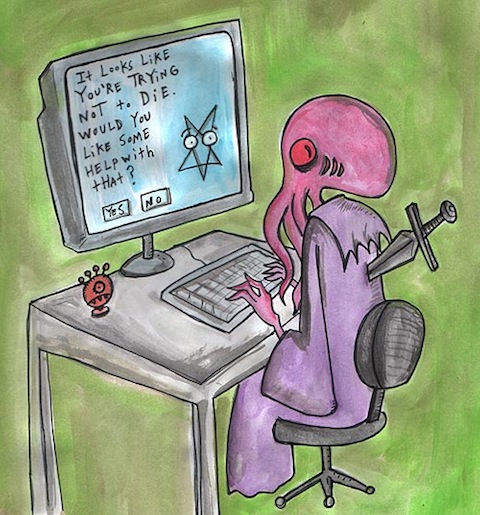 (Artwork courtesy of the awesome@JaredvonHindman ofHead Injury Theater, used with permission.)
The Prismatic Shield
I used the prismatic shield to keep my main villain in "Nightwyrm Fortress" from dying too quickly. He was a larvamage wizard and agent of Orcus named Magrathar. I knew from watching my players fight previous elites that they would drop him in one to two rounds if he didn't have some sort of protection. Following good story design, Magrathar knew this as well! So he used some magic, old magic, to protect himself: the prismatic shield.
Prismatic Shield
Magrathar begins battle surrounded in a shell of shining colors. As long as this shield is up, Magrathar cannot take damage. Each color requires a specific elemental attack to destroy. These elements include fire, cold, lightning, and poison.
You will want to tune the required elemental attacks around the ability of your party. Ensure there is no element in the shield that your party does not have. Another variant of this would be a shell of protection that requires four specific weapons to break. These weapons would be hunted down by the party and acquired so they can face the mastermind and defeat him.
The Circle of Protection
I used the circle of protection in another battle, this time against a dwarven death knight. The death knight had performed a terrible ritual to protect himself in four beams of violet light each emanating from a tortured impaled sacrifice. Each beam bestowed +2 to all defenses to the death knight (+8 total). This made him VERY hard to hit but not impossible. In fact, our ranger critically hit him on the first shot for a whopping 90 damage. Each sacrifice needed to be broken down to defeat the beam, requiring three religion, arcana, or athletics checks. These could be conducted as minor actions (so the PC didn't waste a standard on a challenge) but could only be undertaken once on a character's turn.
This made it very hard to hit the mastermind but not impossible so players still felt like they had a shot. It also only required minor actions to use a skill but requiring three per sacrifice (of four) slowed down the party's ability to unleash the fires of hell upon the mastermind. It ended up being a good threatening battle that didn't frustrate the players.
The False Lightning Rod
There is another tricky way to ensure your big villain isn't quickly killed – the sheep in wolf's clothing. Take a creature that the party will assume is your big villain and have it show up first. A death giant, for example, in a battle with smaller humans will grab a lot of attention from your defenders and strikers – until it turns out he was simply there to take all that damage before the REAL bad guy reveals himself. Players love to attack big things so putting a big thing out on the table is likely to grab their attention (and damage) moreso than the true mastermind who waits in the shadows.
For a very challenging encounter, it might turn out that all of the minions waiting in the wings are truly the dangerous part of a battle. See the Foulspawn monster optimization article for an example.
The best insurance you have to help your mastermind stay alive is to know your players. Understand that the minute they see a big boss, they're going to unleash everything they have at it. Use this to tune your battles and only reveal the mastermind when you know it can come out swinging and, hopefully, last enough rounds to show its true power.
Like this article? Consider using these links to purchase the D&D booksUnderdark, Planes Below, or theDungeon Master's Guide 2 or use this link topurchase anything from Amazon.com. If you're looking for some good miniatures to match up to those elite villains, consider ordering D&D miniature singles from Troll and Toad, an official Sly Flourish sponsor.
Twitter / mshea
mshea: Mike's Moleskine Hacks http://goo.gl/fb/S0KQd
mshea: @icosahedron yeah but you need a ddi subscription
mshea: Thank you @cwgabriel for making the PATV html5 for us iPad weenies! http://bit.ly/Bop0V It looks awesome!
mshea: RT @leolaporte: I said, who was dressed LIKE A GORILLA... http://bit.ly/d5dENe
mshea: I'm thinking Lady Gaga's Telephone problem could be solved by better time and attention management and, perhaps, a different cell carrier.
mshea: @Future_of_Less It doesn't have a floppy disk either!
mshea: Got the official Apple case for the iPad. Not bad. I love the angles it can hold it at. Don't like the feel when holding it open, though.
mshea: Good presentation on the myth of violence. We're living in the most peaceful time in human existence. http://bit.ly/com6pi
mshea: @Future_of_Less what's your take on the iPad?
mshea: Hey look, Facebook owners are still scumbags: http://bit.ly/brqrCB
mshea: Hey @feliciaday, is there a way to watch @theguild on the iPad?
mshea: @feliciaday have you tried http://iplay4e.appspot.com? It won't stop the books but no more char sheet! #dnd
mshea: Now I can sit on my back porch, enjoying the day, and read all the articles telling me why I shouldn't be happy with my iPad.
mshea: @icosahedron btw, http://iplay4e.appspot.com looks great in landscape on the iPad. #dnd
mshea: @icosahedron I can type pretty easily on it either one or two handed. I'm using Goodreader to read PDFs and they look great.
Twitter / SlyFlourish
SlyFlourish: RT @DM_Simonides: #dnd DM Tip: Remember: its about the players; keep them happy. And if you figure out how to keep those whiney ingrates ...
SlyFlourish: Playing in a #rpga #dnd game at the Game Parlor in Woodbridge.
SlyFlourish: #dnd tip: Think about how your monsters got into the environment. Can a pack of kobolds live sealed in a dungeon for 1000 years? How?
SlyFlourish: @Milambus fine with us. We come in Wed night. #gencon
SlyFlourish: @newbiedm I also think #dnd 4e is too easy for Paragon+ characters. Life is harder for heroic tier. That's backwards.
SlyFlourish: @newbiedm the threat of death needs to be there. Nothing is scarier than a badass monster with an axe raised over your fallen friend.
SlyFlourish: @chattydm with all the ways a downed PC can return to full health, a coup de grace is one of the only killer weapons a monster has.
SlyFlourish: Pretty awesome #dnd 4th Edition web-series: @metagameshow: http://bit.ly/9hqOLq NSFW language but pretty funny!
SlyFlourish: @chrisssims The Collapse of Complex Business Models: http://bit.ly/bTtosT - It's not that they don't want to change, it's that they CAN'T
SlyFlourish: #dnd tip: Want a quick skirmish battle that goes fast? Use fewer monsters but up their damage by +5 per tier.
SlyFlourish: RT @plays2much_DnD: This is probably the best #dnd DM tip I have seen since starting #dndenc http://trunc.it/71ny6
SlyFlourish: RT @Milambus: @SlyFlourish The easiest way is to just have one person buy the block of tickets (which I'm willing to do).
SlyFlourish: #dnd SlyFlourish: DM Tip Twitter Archive: March 2010 http://goo.gl/fb/0r2UV
SlyFlourish: In case you missed it: How to Protect Your Elite Villains http://goo.gl/fb/oYM1F #dnd
SlyFlourish: @Milambus my wife and I will be doing True Dungeon but it's a bear to get a slot. How can we set up a team?
SlyFlourish: @4eDnD at epic tier I'll go six to eight battles without an extended rest. #dnd
SlyFlourish: RT @ChrisSSims: @SlyFlourish Solos thrive in favoring terrain, and with cool associated minions. More in a setting that favors my longwi ...
SlyFlourish: @ChrisSSims Any tips for making epic solos more threatening to high powered PCs?
SlyFlourish: #dnd tip: Want a quick skirmish battle that goes fast? Use fewer monsters but up their damage by +5 per tier.
SlyFlourish: From @talkingbookcase. Really great #dnd initiative hang tags: http://u.nu/7m668
Mike Shea's shared items in Google Reader
From: http://feedproxy.google.com/~r/Techcrunch/~3/6l1-S4oZU18/
2010-04-10T14:00:50Z
From: http://xkcd.com/725/
2010-04-09T00:00:00Z
From: http://feedproxy.google.com/~r/Techcrunch/~3/j46x5cmUiMU/
2010-04-08T18:11:10Z
From: http://xkcd.com/724/
2010-04-07T00:00:00Z
From: http://feedproxy.google.com/~r/Techcrunch/~3/bckS6ypbeqs/
2010-04-06T02:33:37Z
Shared by Mike Shea
He says Asset like fifty fucking times in three seconds. I think he's right about most of what he says.
I found one person who has no plans to buy iPad 1.0: James McQuivey, a VP at Forrester Research. Hes less than impressed with Apples latest offering and if he buys an iPad in the future it will be in 2011 or beyond (when the second generation comes out). While the Kindle Killer chant is growing louder among iPad reviewers, he still has lots of love for Amazon.
Expounding on his blog, he argues that Amazons business model is not jeopardized by the iPad because Amazon is in this for the long term customer relationship. They actually dont care if you want to buy their device they just care that you want to buy content from them in perpetuity. Beyond Amazon, he sees Sony and Google as the iPads top competitors.
In regard to legitimate competitors, he says: The easy names that come to mind are Dell, HP, Lenovo, and I have to say theyre going to make a bunch of nice tablets but theyll really all be notebooks or netbooks without keyboardsThe people in the best position to make a media centric device, which is what the iPad really is, are going to be Sony. Remember they make Vaios as well as TVs as well as the number two e-reader in the businessAnd all they have to do is put all those assets together into a single asset and build on some of the assets they have on the gaming side, and on the music side, video side.Now historically theyve struggled to bring them all together but that doesnt mean they cant get it right this time. And the reader business has shown how they can get it right when they really put their mind to it. Beyond them though, Google is a name that you got to keep bandying about here, they have a couple of different operating systems that could be relevant. Not only the Android phone-based OS, but they have the Chrome OS.
Im less bullish on Amazon, I think the lions share of those considering a Kindle purchase, will defect to Apples camp unless Kindle drops the price significantly (McQuivey expects some price drop). But even if Kindle drops the price to say $100 from the $259 baseline, I think many will look at the purchase decision as microwave vs. kitchen. Why spend $100 for the microwave, if you could get a whole kitchen for $499 the economics favor the kitchen (that is if you plan to use all the appliances, like e-mail, internet, multimedia and the app store). Im a proud Kindle user who loves the e-ink technology but I would give it all up to have a more versatile device.
McQuivey says the next Kindle will include many new features and leverage more of Amazons offerings (also evidenced by Amazons recent acquistion of Touchco and its introduction of a Kindle development kit), but I doubt Amazon will ever create an app store that could rival iPads.
[image: flickr/d2digital]
From: http://www.patrickweb.com/weblog/archives/2010_04_04.php#ipad_-_part_1
2010-04-05T15:43:27Z
John Patrick, former vice president at IBM:
When we introduced the ThinkPad in 1992 it seemed like a huge deal just to get everyone at IBM to agree with the name. No one, certainly not me as VP of marketing at the time, had any idea that more than 30 million ThinkPads would be sold. The iPad will surely sell multiple times that number but more important the iPad will change the model of personal computing not immediately and not for everyone, but for many millions of people the PC will begin to look like a dinosaur.
From: http://www.flickr.com/photos/pargon/sets/72157623594187379/
2010-04-05T00:38:15Z
Flickr set featuring signage from Tea Party rallies.
XBOX 360 Activity
Netflix Ship/Receive Notifications
Shipped: The Informant!
Shipped: RocknRolla
Shipped: Angel: Season 2: Disc 5
Received: RocknRolla
Received: Angel: Season 2: Disc 5
Received: The Hangover
Reading List: Amazon Wishlist to RSS Feed
Top Stories - Google News
Dow Jones Industrial Average: 10997.35
Vienna, Virginia Weather : 45F Clear