Mike's Autojournal
Mike Shea's Website
Sly Flourish
Often, perhaps too often, we DM's focus on building terrain as a challenge to PCs. In later levels in D&D 4th Edition, it can become hard to keep the challenge and threat high for our PCs and terrain is one way to add that challenge. Too much, however, and terrain becomes nothing but a burden on the PCs. Today we're going to look at changing this idea and considering terrain as a factor of fun for your players rather than a way to keep the threat high. We're going to look at three ways to make terrain fun for your players.
Keeping terrain interesting has a few advantages isn't just about fun. You can use it to design the flow of your encounter as well. For example, advantageous terrain will draw your players into a room when they might just hang out in the back hallway. Useful and fun terrain is the carrot you can use to entice PCs into your encounter environment instead of the stick you'd use to prod them forward. It keeps your battles exciting and dynamic instead of a battle of inches over a single corner.
I Have the High Ground
Want to get the ranged strikers in your group to step a bit further into the room? Give them combat advantage for taking the high ground in your terrain. A clear view of the battlefield gives them a drop on their enemies. Place these high ground positions deep into the encounter area, requiring that these strikers have to fight their way across the battlefield to reach it. Go ahead and tell the players of this advantage, even the mechanics of it, so they'll take advantage of it. If you're too abstract, they won't bother stepping away from their safe corner and into the dangers around them.
If you want to make it a bit more exciting, place some charged radiant crystals on this high ground position. When adjacent to these crystals, a ranged striker gains +1d6 radiant damage per tier in extra damage. Getting to this high ground, however, might be a bit more difficult. The entire platform might be coated in demonic slime, requiring a hard athletics or acrobatics check on top of 5 damage per tier in poison / necrotic horror as they climb to the position.
Baiting the Trap
Another way to give your players some fun terrain is to turn the tables on traps. Instead of the party walking into a devastating trap set up by nasty kobolds, have a trap set up that can easily backfire on the lizardly folk if the party can take advantage of it. Perhaps these kobolds were planning on dropping a series of huge rocks on the party. After noticing this with a perception check, the party's ranger puts an arrow into the kobolds eye. Another perception check could tell the party that one of their members might turn the table on this rock-dropping exercise if all they do is run up to the cliff-side and begin dropping them themselves.
Setting up an environment that the party can take the advantage is a great way to draw them into the encounter.
Preparing for the Siege
Rather than the party acting as an invading force, they might find themselves protecting an area from an oncoming horde of nasty beasts. In this scenario, give them quite a few objects they can set up and build into defendable positions. Defending the city gates, for example, might have them placing their ranged attackers on rooftops while they build barricades of defendable positions.
Consider the final battle in the original Conan the Barbarian. Three men spend half a day arranging ground spikes, spear traps, and weapons everywhere in preparation for the coming of Thulsa Doom's army. How can you give your players an environment similar to this?
An Ever-Changing World
A static environment might end up being pretty boring. Set up an encounter environment that changes as the battle progresses. Better still, give your players a chance to change the environment by collapsing walls, tipping huge pillars, setting fire to stores of flammable dwarven ale. You might even have some advantageous terrain appear after a huge monster has crashed through a wall or smashed down a pillar. The great wyrm's massive tale might smash through a crypt wall revealing an ancient skeleton gripping a powerful magical sword.
With all of these suggestions, the idea is to break away from thinking of terrain as only a detriment to your players and instead offer an environment they WANT to get involved with. Like all things in D&D, focus on fun and the rest will fall in line.
If you liked this article, please consider using this link to purchase the Harrowing Halls Dungeon Tiles, the Dungeon Masters Guide 2, or use this link to purchase anything from Amazon.
You can also find a variety of sourcebooks, accessories, and miniatures at Troll and Toad, an official Sly Flourish sponsor.
Twitter / mshea
mshea: Pics from our trip to the Outer Banks last week: http://bit.ly/95pLr5
mshea: Bad Boys 2, @JaredvonHindman? What happened to you? You used to be cool. http://bit.ly/9caUlY
mshea: The most expensive single character error in world history: http://bit.ly/9Er1IH
mshea: @chattydm 28 Days Later is so awesome.
mshea: @lewisshepherd Does it directly interact with Twitter and Facebook? I'm still avoiding linkdin invites like the plague.
mshea: Had probably the best steak dinner I ever had at Mike and Dianne's grill in Corolla NC.
mshea: Just finished at the Wright brothers memorial. Great time! Debate question, which was a bigger invention, flight or the Internet?
mshea: @mike_schiller Hardesty does Glengarry Glen Ross: http://bit.ly/aiuMxi
mshea: @mike_schiller Hardesty is absolutely awesome. Check out Oceans Eleven (http://bit.ly/1lbpuK) and Goodfellas (http://bit.ly/zxT83)
mshea: @newbiedm Michelle and I are at the Outer Banks in North Carolina. We get back Saturday night.
mshea: @newbiedm I'd love to. I'm on vacation now but I could do it with my macbook's mic if that would work. Or on Sunday with a real mic.
mshea: @newbiedm Try the first five chapters of "Getting Things Done": http://amzn.to/9ai5Il Changed my life. Culty, I know, but it works.
mshea: Walked the dog down at the beach and watched the waves come in. Michelle and I watched "28 Days Later" last night - amazing movie.
mshea: My Borderlands review was published to Critical Hits: http://bit.ly/c6SeIY
mshea: Only Microsoft could think it's ok to force a reboot of your phone. http://ping.fm/OA4oB
mshea: @newbiedm It should have said: "bowl of cereal: $1; View of Times Square while eating cereal: $7"
mshea: @DaveTheGame What's this "we" shit, Kimosabe?
mshea: Run your business like Silicon Valley, not Soviet Russia (thanks @lewisshepherd): http://bit.ly/drp0MC
mshea: @lewisshepherd In Soviet Russia, business runs you! (sorry, too easy).
mshea: @newbiedm Eight bucks for a bowl of cereal - awesome.
Twitter / SlyFlourish
SlyFlourish: @gregbilsland I'm looking forward to running some epic MM3 monsters pretty soon. I'm going to try your volcanic dragon out soon, I think!
SlyFlourish: @robertnexus I am very sad. I lost all my cool game tokens. Waiting for #dnd essentials to solve this problem.
SlyFlourish: #dnd tip: Small poker chips can work as monster tokens in a pinch. Get three colors and write on them with a marker.
SlyFlourish: Yay! I've been added to the Ennie submission list. Thank you for the help @ennies and friends. http://bit.ly/ajuy2v
SlyFlourish: @ENnies Sorry about forgetting the $5. I just sent it now. Thank you for the help!
SlyFlourish: @ENnies Hello! I've submitted SlyFlourish.com earlier this week but I've seen no indication of it on the list. Should I worry?
SlyFlourish: @monkeyking @Squach I've now submitted SlyFlourish three times this week but I've seen no indication of it on the list. Should I worry?
SlyFlourish: #dnd tip: If you're having trouble getting people excited about skill challenges, try using them during combat to change the encounter.
SlyFlourish: In case you missed it: Making Terrain Fun (http://bit.ly/cC7DBG) Sorry about the original broken URL. #dnd
SlyFlourish: In case you missed it: SlyFlourish: Making Terrain Fun http://goo.gl/fb/ #dnd
SlyFlourish: #dnd tip: Want to beef up your powerful solo? Turn all of its actions into minor actions to give them more powerful attacks per round.
SlyFlourish: @chattydm it is a curse we all have, pondering what we should do and how we should do it vice just doing it. I suffer from it as much as any
SlyFlourish: @chattydm If followed, I will promise to not overpost, not post off topic from #dnd, and offer tips to make people's games better.
SlyFlourish: @gregbilsland what would you say is your favorite monster in the MM3? Why?
SlyFlourish: RT @KoboldQuarterly: Delve into the heart of the mountain and try these six new underground terrain options for #4E #dnd http://cot.ag/d ...
SlyFlourish: RT @matt_james_rpg: This week's "Use This Mini" on Loremaster.org! http://www.loremaster.org/content/69-use-mini.html #dnd
SlyFlourish: RT @criticalhits: New Critical Hit: Review: Borderlands http://critical-hits.com/2010/05/05/review-borderlands/
SlyFlourish: RT @Wizards_DnD: If you haven't seen it yet, our interview with @DaveTheGame is definitely a great read! http://bit.ly/bX1kwB #dnd
SlyFlourish: @gregbilsland congratulations, my friend. I want that book so bad.
SlyFlourish: .@JaredvonHindman #dnd shirts available now! http://bit.ly/cj4jPh
Mike Shea's shared items in Google Reader
From: http://zedomax.com/blog/2010/05/04/android-multi-touch-tablet-prototype-hands-on-review-web-2-0-expo/
2010-05-05T18:24:59Z
I especially like this video, showing the Android browser playing YouTube videos using Flash, where the guy narrating the video says Good thing I didnt buy an iPad, because this one does Flash, and at that moment, the browser crashes.
Sure would be great if iPads could play YouTube video, though.
From: http://critical-hits.com/2010/05/05/review-borderlands/
2010-05-06T00:59:35Z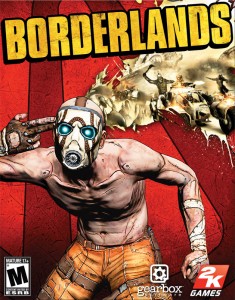 Mikes One Minute Review
Borderlands is a unique and rare game that, unlike many current games, pulls you in right away and never lets go. This Diablo-style first person shooter has all of the best elements of an action game and a loot-based roleplaying game packed with some beautiful artwork and enough content to keep you busy for fifty hours or more. With a recent price drop to $37 for Xbox 360 and PS3 versions and under $30 for the PC version, Borderlands is a steal. I highly recommend it.
The Longer Review
We live in a wonderful, yet strange age for video games. On the one side, we have games like Final Fantasy XIII, a game that according to sources, requires nearly 35 hours before you leave the tutorial. While this incredibly long introduction isnt the norm, it is normal for a game to take up to five hours before you really understand how well you will like it or not.
Borderlands is not one of these games. I was hooked on Borderlands within the first fifteen minutes of putting in the disk, maybe even sooner. The introduction alone is enough to really pull you in and show you what sort of game youre going to be playing.
At its core, Borderlands is a Diablo-style first person shooter. This is a weird combination you might not be able to get your head around if you havent seen it or tried it out. Though it feels like a first person shooter, there are definitely hard-core roleplaying elements here. Every shot you fire shows you how much damage youve done. When you set fire to guys, numbers go flying out of them like blood or flames showing you the damage of each tic. As you level up, your accuracy, damage, and hit points all increase. Theres a talent tree for the four character classes (for my lengthy run-through I played Mordaki the Hunter), and an enemy level system that makes it nearly impossible to kill monsters more than three levels above you.
The artwork in Borderlands is unique and fantastic if you like cell-shaded comic-book style graphics. Style overtakes realism in this game, and its a really cool effect. The sound is likewise excellent with a great soundtrack and useful audio cues when enemies are coming up from behind.
At its heart, Borderlands is a game about upgrading gear. The story is a lot of fun but its the constant upgrade of new items, many with unique combinations of statistics that really brings you in. The joy you get the first time you receive an ultra-rare 4x corrosive high-damage revolver is hard to beat.
The baseline story of the game takes about 20 to 30 hours to complete, bringing you about half way through the level tree. At this point you can begin another play-through which scales up the difficulty of the bad guys and puts you through the game again. Unfortunately, the otherwise awesome quest system is linear enough that you dont get a much different experience the second time you run through it.
As good as it is, Borderlands isnt without its problems. For one, I hate roleplaying games that shoehorn in vehicular combat. I dont want to ride around in a go-kart that I didnt level up and cant improve. When I go through the trouble to level up and equip a character, I want to spend the game in the eyes of that character, not riding around in some vehicular afterthought. Luckily, the quests that require the vehicle are very slim.
There have been a number of downloadable content releases for Borderlands, some good and some bad. I have played through about half of the Island of Dr. Ned and Ive been loving it, although I had to go back to the main game and level up a little bit before being able to effectively kill the waves upon waves of zombies. All the humor and action of the main game are well played out in this expansion. Ive read good things about the Secret Armory of General Knoxx as well but from what I understand you need to be level 50 to enjoy it. From what I heard, Mad Moxxis Underdome Riot is pretty uninspired and not worth the $10.
With games like Mass Effect 2, Fallout 3, Dragon Age Origins, and now Borderlands; its a great time for console RPGs. If youre a fan of Diablo who isnt afraid of a little first person shooting, Borderlands is a great game and at $37, its a steal.
XBOX 360 Activity
Netflix Ship/Receive Notifications
Shipped: Coraline
Shipped: Mission: Impossible III
Shipped: Up in the Air
Received: Mission: Impossible III
Received: Up in the Air
Received: Angel: Season 2: Disc 6
Reading List: Amazon Wishlist to RSS Feed
Top Stories - Google News
Dow Jones Industrial Average: 10380.43
Vienna, Virginia Weather : 51F Mostly cloudy